Graphic + Web Design Studio For Small & Medium Businesses.

Creating the right first impression for your business.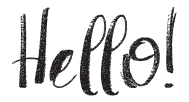 BRAND PACKAGE
Branding is so much more than a logo. Your branding follows you with every single piece of your marketing message you send out to the world, it's important to look professional, right?
Your brand is your business personality and should reflect your professionalism.   
WEB PACKAGE
This is where many of your clients or customers get a first impression of you. You want to look professional and send them to your website with excitement.  Afterall, you are selling your brand experience to show you are a professional, trustworthy company.  
BRAND + WEB PACKAGE 
Your website and logo are two important pieces to your businesses identity. This package is a great way to get started with everything you need. You will be excited about your brand and wanting to send everyone to your website, proud and ready for business.
do you need print materials for your business?
please contact me for a quote.
Spend your valuable time where it counts – on your business.
As a business owner, you have many tasks on a daily basis. By hiring a designer to create your brand + website, you alleviate the stress of losing your own valuable time which could be spent on other areas of your company. And a bonus – you get a professional looking brand that's ready for you to get clients, customers, and results!
Let's work together to make your customers and clients experience memorable.
© 2018 MELISSA CYR BRANDING & WEB DESIGN STUDIO